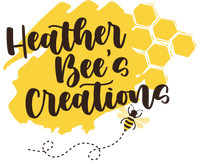 About Heather Bee's Creations
My name is Heather and I'm so happy you visited my site. I'm a creative person who loves to help others create and decorate their home with beautiful home decor pieces and signs. What started out has a hobby has now turned into a fun business. We have a variety of designs to offer and can't wait to have you come on this journey with us to adorn your home with beautiful signs and decor to enjoy for years to come. 
What do we offer? Well, not only do we offer finished pieces but we also offer fun DIY Kits for you to paint in the comfort of your home. In person parties will be opening back up soon (date to be determined.)  
More Products
This section doesn't currently include any content. Add content to this section using the sidebar.